AUTUMN's burst of RADIANCE
 Admittedly, autumn begins and ends sooner in the North, and it's much colder, but it doesn't lack in beauty. Luckily, the activities to do in Lavangen during Autumn have many benefits: less tourists, ripe tasty berries on the ground ready to be eaten and witnessing the first northern lights of the season, among a few of them. But our favourite activity will always be the simple view of a golden sunset glowing on the orange toned forest landscapes with the first snows covering the mountains' top as background. It's feel like we step  into a living painting.
Lavangen has much to offer in Summer and Winter too!

Lavangen's has a few hundred kilometres of hiking trails, some starting right from your cabin! Flat or steep trails, for relax leisure or for the challenge of conquering mountains, our expert guide will find the trail that fits you the best.

Aa-Gård Disc Golf 18-hole course, follows a path along the fjord's shore and around the old farms and historic houses of Lavangen. The course fits both for beginners and competitive players. Never heard about Disc Golf ? Check our page!

Rent a boat, to either see Lavangen's mountains from an other angle, go for a fishing day. Your meal of fresh fish is waiting in "the largest pantry of the world". Check the successful fishing stories of our guest on this link.

Autumn also offers other delicacies – in the forest, both mushrooms and berries are waiting for eager pickers. Thanks to the right of public access, you can freely pick both berries, herbs and mushrooms everywhere in Northern Norway.

Aa-Gård is located so far North, that we can see the Northern lights even when the activity is low, giving you the maximum chance to encounter them. This magical experience is something you will remember for the rest of your life.

The construction of a Via Ferrata and its wooden stair case in Lavangen, is the latest exciting project soon be realised. Stay tune on this new attraction next to the waterfalls on the way to Fossbakken. On this page you will find all the updates about it.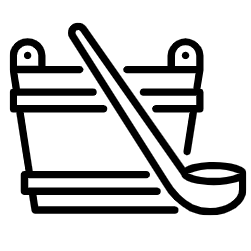 They're part of a deep tradition in Scandinavia, reap health benefits and, more simply, are wonderfully relaxing. Perfect both in summer, after a dip in the fjord, and in winter after a roll in the snow or ice swimming.

Discover Lavangen differently. A lot of option are available: either along the fjord on our not so busy roads or up to the summits for the challenge of conquering mountains and the reward of the view from the top.