Get HOOK UP with Lavangen's
fishing EXPERIENCE
Since a couple of decades, Aa-Gard's fishing camp is the primary holiday destination of the region, and despite the large diversification of our activities on site,  fishing holidays is the most popular activity chosen by our guests.
 We are proud to see that most of our anglers are repeat customers from years on, to whom some of the information on this page may seem obvious, but we would like to present some useful information for those who have not yet visited Aa-Gard for fishing.
You will find on this page essential information about our boats, the types of fish and our facilities.
Successful FISHING stories…
…are best told by the fishermen and women themselves. That's why we let these pictures do the talking. All photos were taken by guests at Aa-Gård's fishing camp

It is essential to follow all the rules shared with you during check-in briefing. Understanding of rules at the sea, knowledge of using the boat and safety procedures are needed. If you are born after 1980, a motorboat certificate is required to operate the boat.

It's just the best! Aa-Gård's fishing camp is right between the island of Sørøya where the sizes of the giant cods often brake world records, and the Lofotens, which annually host deep sea fishing competitions. Lavangen's is full of fish and the spots are easily reached by a brief boat trip.

We offer rental of 19 feet Kværnø aluminum boats properly equipped for fishing, with GPS and SONAR and they are powered by 60 HP engines. Each boat is recommended for up to 6 persons fishing. Our marina is less than a 100m from our rental cabins, and filleting room.

Guests can bring their own equipment or use rental equipment offered in our shop. We have fishing rods, reels and flotation suits available for rent. It is also possible to buy all essential fishing tackle.

Aa-Gård has its own petrol pomp for a self-service 24/7 usage.  All necessary facilities for preparing and cleaning fish are by the pier. We have a fish scale, fish boxes,  filleting room with multiple outlets of fresh running water and one freezer for each cabins.

In case of any emergency, immediately call us
+47 450 469 64

National sea emergency number is:
+47 123 45 67
We have 9 boats available for rent. All boats have aluminium hulls and are properly equipped for fishing. Our boats are located in our own marina not even 100 meters from the cabins. The boats can be booked through our online booking when you book your stay with us.
Our boats specifics:
Aluminium boats
60HP engines
Room for 6 people
Geared for fishing
Equipped with GPS
Equipped with SONAR
| | | |
| --- | --- | --- |
| Boats and Fishing | Per day | Weekly |
| Boat rental 1 day (incl. insurance; & license fee) | 1400 NOK | 7650 NOK |
| Fishing rod and reel (hooks are extra cost) | 200 NOK | 800 NOK |
| Flotation suit | 200 NOK | 800 NOK |
| Life vest | free | free |
| Boat insurance (included in boat rental for damage in excess of NOK 2000) | free | free |
| Boat cleaning (optional) | 500 NOK | |
| Cutting fish for fillet (service) | on request | (per hour) |
Gasoline for boats  (dynamic price) 24/7 available
Included in the rental price:
Use of a Kværnø boat with 60 HP engine
Use of Garmin GPS with SONAR
YesFish fishing license and safety fee
Boat insurance
Use of filleting room
One individual freezer
Access 24/7 self service fuel pump
Fishing rods & baits
Filleting knives
Basic layer of clothing
Hat, Gloves & Thermal shoes.
Lavangen's fjord has some of richest waters to be found: its beginning is at a cross roads of currants concentrating giant cod and saithe, deep bellow the sparkling waters.
Our knowledgeable guides will show you on maps the best spots to go sea fishing, depending on what fish you wish to catch.
Whether you are interested in a casual fishing outing or an experienced all-day fishing experience, our guides are on hand with useful information and location-specific tips.
Here a quick recap of the most common fish you can encounter in Lavangen's fjord. Wishing you all a successful fishing trip !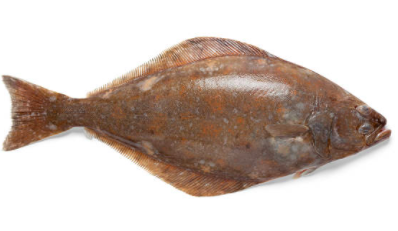 Latin:
Sebastes norvegieus

Description: Flatfish easily recognisable by the bewildering shape of its head.
Habitat: Shallow sandy bottoms in Northern Norway
Taste: This lean fish has a mild, sweet tasting white flesh, similar to tilapia.  It's thicker and firmer than cod.
Bait: Fresh bait as coalfish or sand eels fillet, or frozen prawn, mackerel and herring. Soft rubber fish can also work.
Legislation: Must be released if smaller than 80cm and bigger than 2m for health risks reason.
Norway's record: 190.00kg (2004)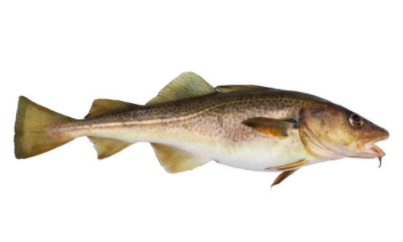 Latin:
Gadus morhua
Description: Distinguished from other members of its family by the large barbel on the chin and the arch in the lateral line.
Habitat: From kelp forests to deeper waters down to 500m. Prefers rough bottoms composed of sand and rock or of shells.
Taste: Cod has a very mild, milky flavour, slightly sweeter and dense white flakey flesh.
Bait: Fresh bait: squid, fish, crabs or sand eels. Artificial lures such as chrome diamond jigs, spinners, buck-tails, spoons, and shiny metal squids thrown deep bellow, from a drifting or anchored boat, or by jigging and deep trolling will work as well.
Legislation: Must be released if smaller than 40cm 
Norway's record: 47.02kg (2013)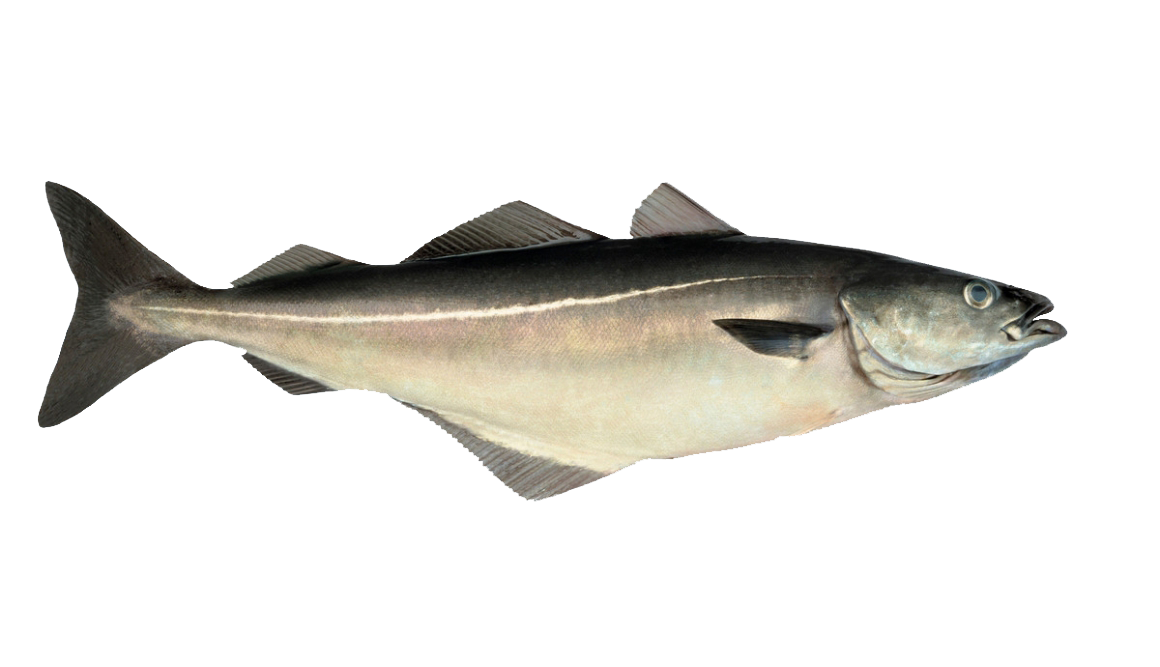 Latin:
Pollachius virens
Description: Elongated silvery body with silver-green scales. His top is uniformly coloured (blue-black or charcoal), and a pale stripe across its side.
Habitat: Generally a deep or midwater fish occurring in depths of up to 100 fathoms.
Taste:  Its pearl-grey meat is firmer than the cod's, which makes the fish equally suited for cooking, pan-frying, or barbecuing, and you can use it in casseroles, soups, or oven dishes.
Bait: Will bite at almost anything. Mackerel, herring, cod, ragworms, and shellfish are all popular choices. Artificial baits can be used as well such as plastic sand eels, spoons, devon minnows, and pirks. 
Legislation: No minimum size
Norway's record: 22.70kg (1995)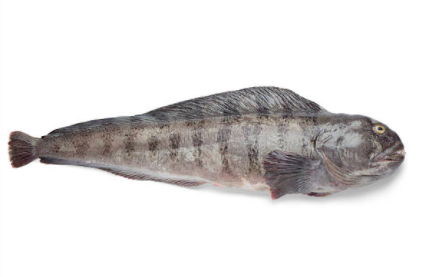 Latin:
Anarhichas minor
Description: It has a long dorsal fin from its neck and backwards. The jaws are powerful with several rows of thick teeth. The skin has striped patterns in shades of grey.
Habitat: cold, deep waters near rocky areas. It is found at depths of between 40 and 600 meters.
Taste: The lean, pearly white flesh of the wolffish has a firm texture and a mild, sweet flavor, sometimes likened to lobster. The meat has a flake similar to cod's but not as large.
Bait: Fillet of coalfish or cod, or artificial lures like a jighead paired with an artificial shad that makes the whole lure comes alive in the water.
Legislation: No minimum size
Norway's record: 27.90kg (2000)

 Latin:
Sebastes norvegicus
Description: Most of its body has that striking orange color except for the white belly. Aside from its distinctive coloration, this fish can easily be recognized through its large, protruding eyes, and pouty lips.
Habitat: Juveniles are occur in fjords, while the adults are found off the coast at depths between 100 and 1,000 m
Taste: The flesh is firm and responds well to frying or grilling. It is similar to – and can be treated like – pike-perch or perch.
Bait: Will bite at almost anything. Fresh baits: anchovies, sardines, or squid strips. Plastic lures: scampi tails or a metal butterfly jig.
Legislation: Must be released if smaller than 32cm
Norway's record: 12.14kg (2012)
At Aa-Gård Lavangen, a self-service fuel pump is at your disposal 24/7, allowing you a maximum of freedom during your fishing trips.
Here is how it works: At your arrival, your group will get a red-coloured chip with a number written on it. Start by scanning your chip on the red dot of pump #1.
You will then see on the screen 'Put your vehicle code', press then the number on your chip (between 1-9). Now you can fill your canisters with pump #2, using 95. Payments are done on the last day of fishing. We will come to you with the overall bill.
The Northern Norway region is best known for its cod, but the many rivers and lakes up north offer equally great freshwater fishing possibilities. There are numerous fishing spots in the wilderness where you can fish for trout, Arctic char, pike, and perch. You will have great results of course in summer under the midnight sun, but some will fish on ice, under the northern lights
Wild salmon was traditionally harvested as an important food source, but today it is more of a prized fish species for recreational anglers. Due to a slow decline of the salmon stock in the last few decades, strict daily and seasonal bag limits have been introduced, and more and more anglers are practising "catch and release".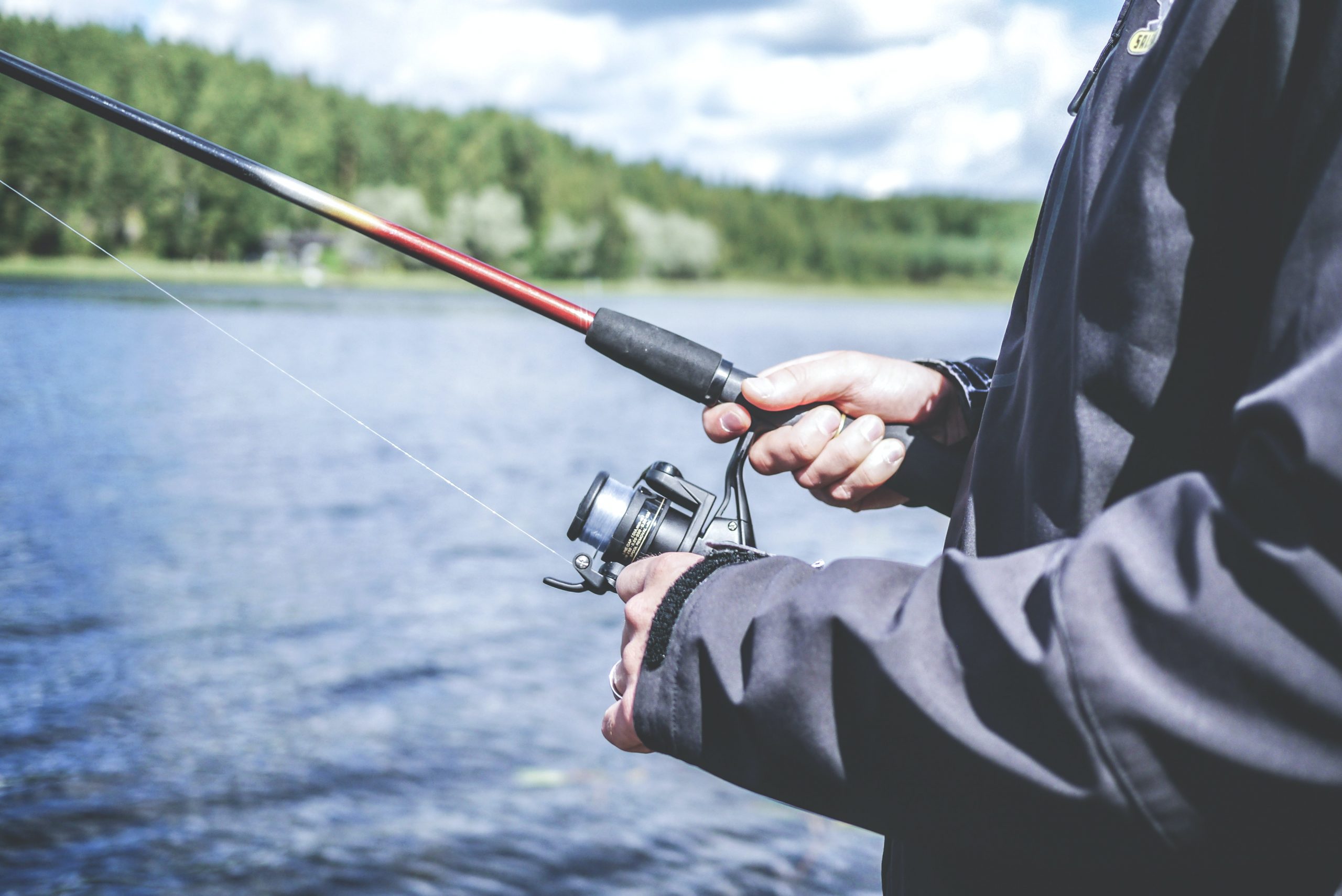 You need a fishing licence ("fiskekort" in Norwegian) to go freshwater fishing in lakes, rivers, and streams in Norway.
Fishing licences are issued by local land owners and fishing organisations. You can buy your licence online at inatur.no, in selected sports shops, convenience stores, and at many campsites.
Fishing licences are valid in specific areas and for specific time periods only, so be sure that you know where you're going before you buy a licence.
If you want to fish for salmon, sea trout, or Arctic char, you must pay a small fishing fee in addition to your fishing licence. This does not apply to children under 18. There is a total ban on eel fishing in Norway.
You don't need a fishing licence for fjord and sea fishing in seawater.
Read more about rules for freshwater fishing in Norway at miljodirektoratet.no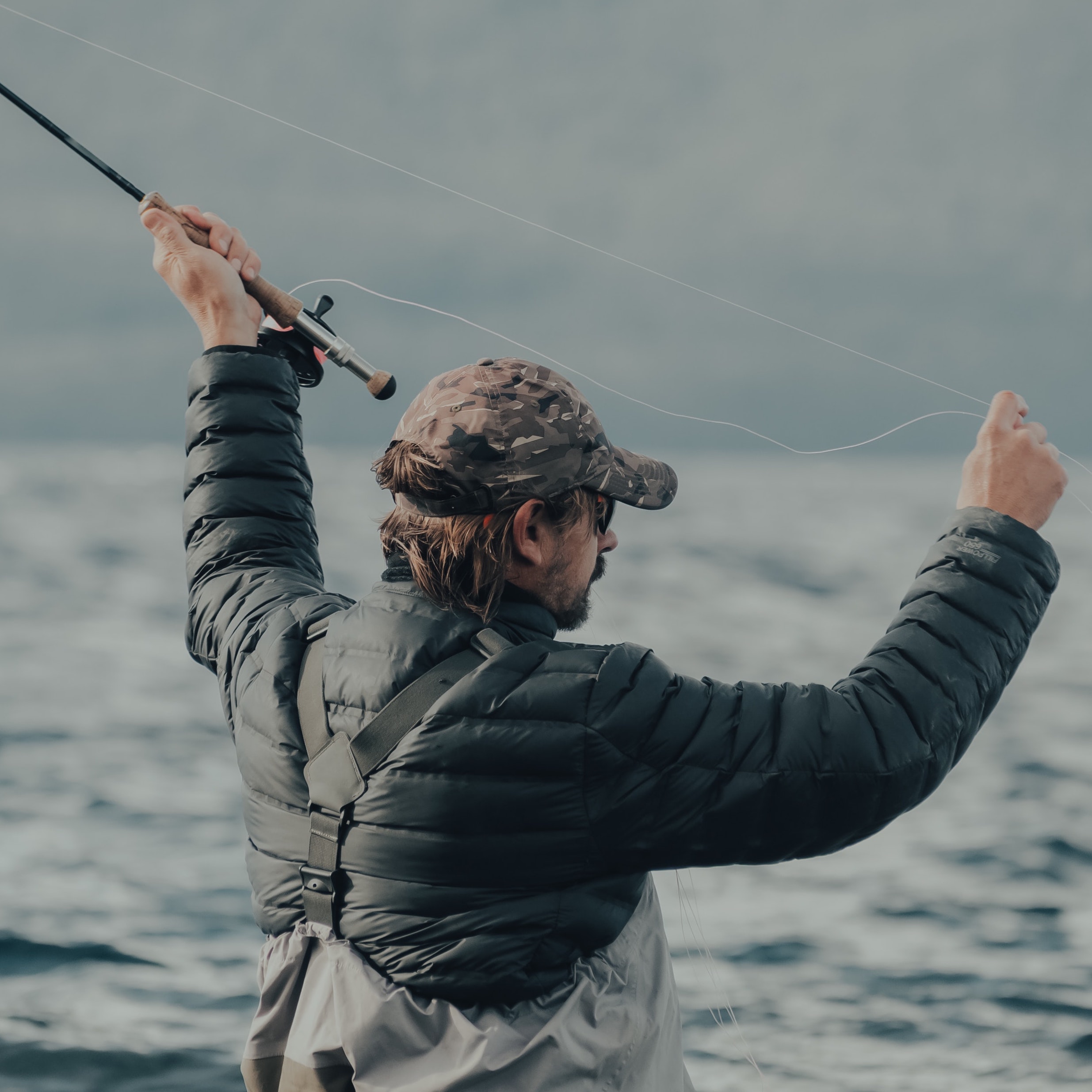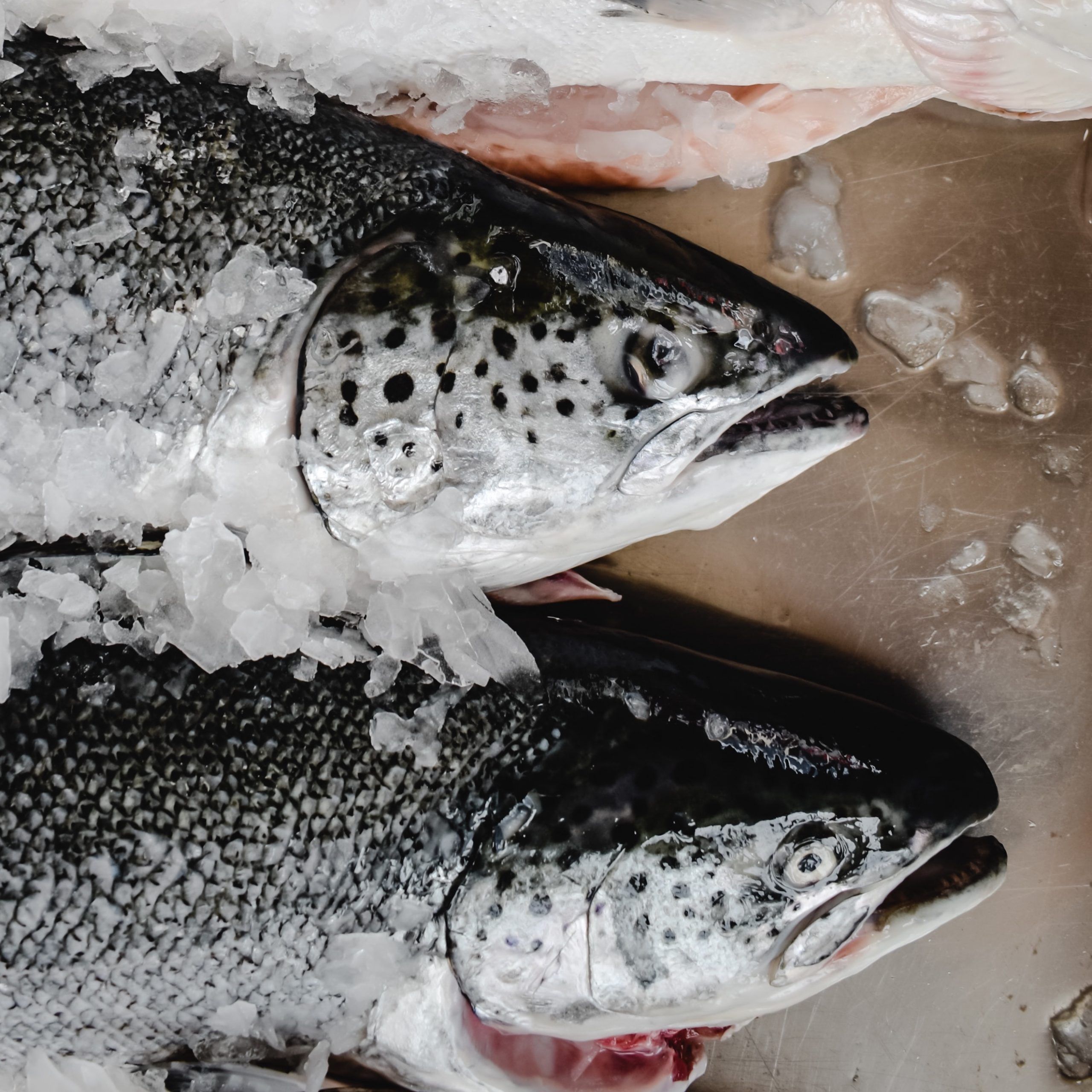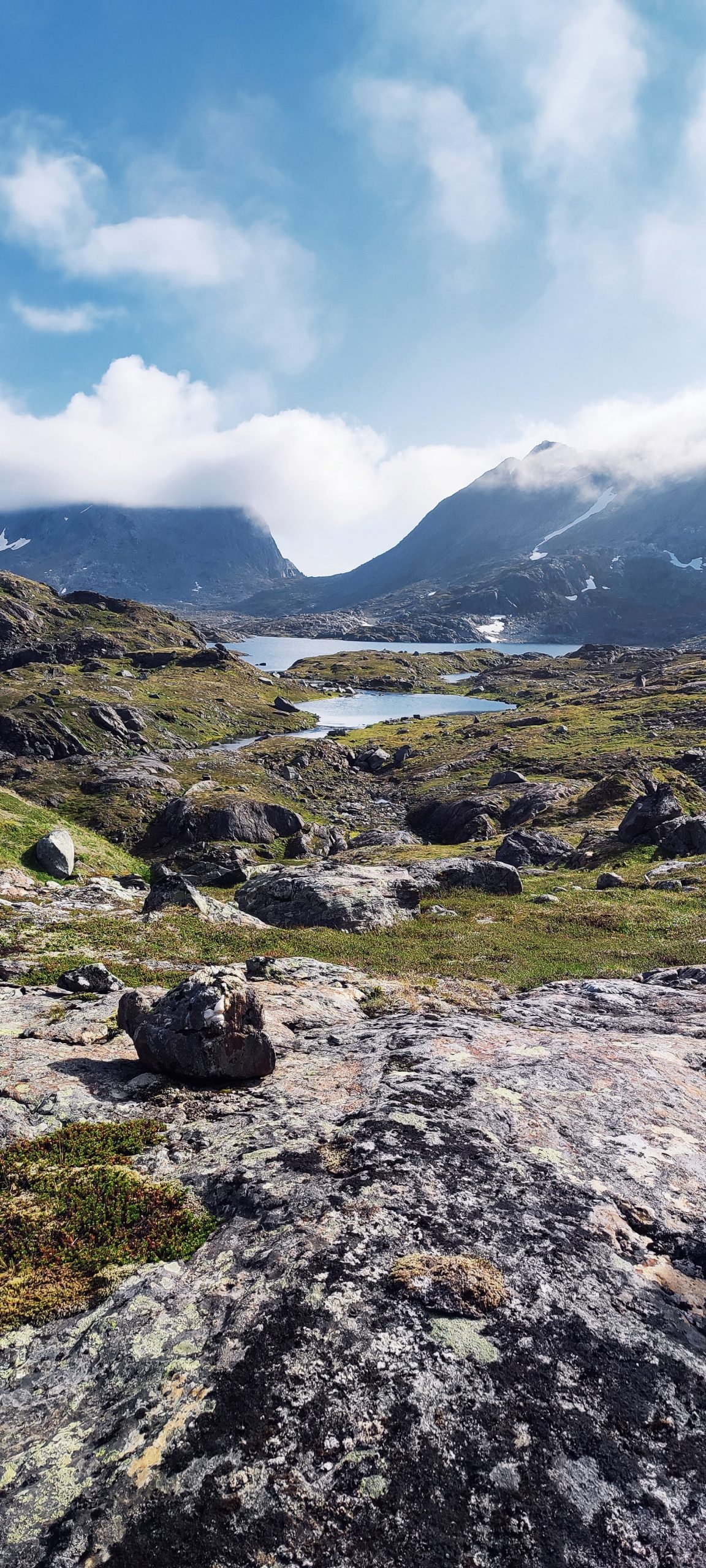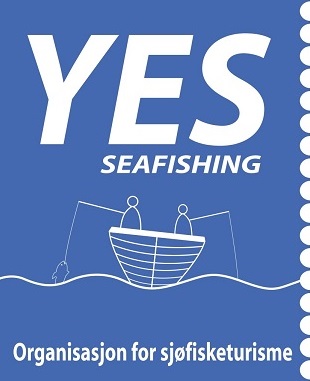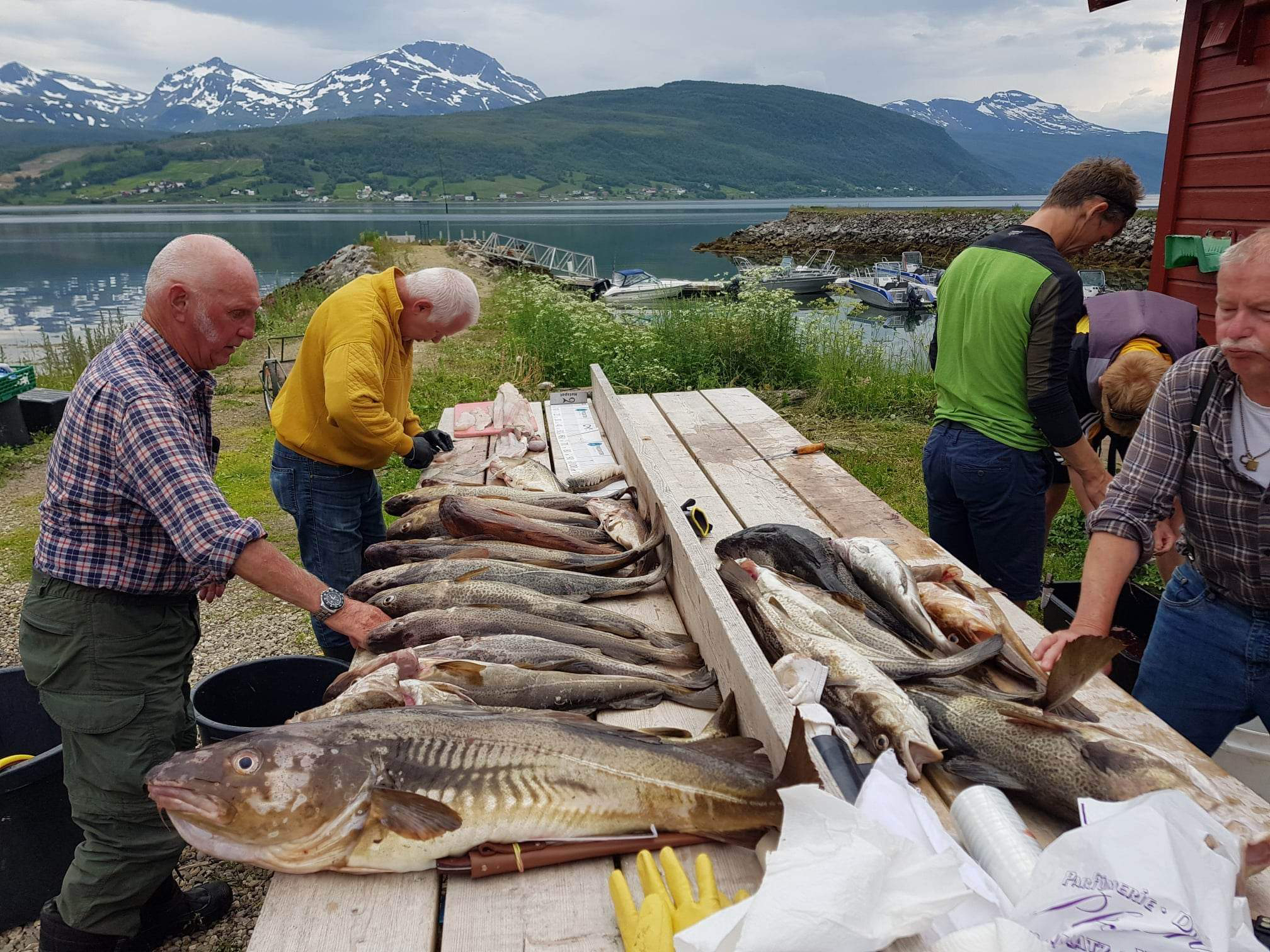 Aa-Gård as an officially registered fishing camp is obliged to report catches to the fisheries authorities. Each fishing trip and all catches, whether landed or released, of the following species are to be reported: cod, saithe, wolffish, redfish and halibut.
Only tourists fishing from a registered fishing camp are allowed to bring  fish or fish products out of the country when leaving Norway. The limit of 18 kilos of fish or fish products can be exported out of Norway twice a year.
Upon arrival, we will give you a pin code for your group to register your catches.
You can then go on www.yesfish.no with your pin code and log in. From there you can then register either each day or at the end of your stay all of your catches and trophy fish.
At the end of your last day of fishing, we will give you a paper proving that you were fishing at our registered fishing camp, allowing you to go through customs when leaving the country with your 18kg of fish each.
You will not be able to register any more fish after we give you this paper.
This quota applies to all private individuals, also Norwegians travelling from Norway.
When leaving Norway, you must transport the fish yourself on your departure
You are not allowed to transport or carry fish for other people that are not travelling with you
A trophy fish is considered as a part of the quota
You are allowed to export the export quota twice a year
The quota includes fish and products such as fish fillets or similar.
More informations on the Norwegian Customs and the Directorate of Fisheries webpages