75 DAYS of constant SUNLIGHT
North of the Arctic Circle, with 24 hours of sunlight for well over two months come summer, you've got nothing but time to cram your itinerary with a lifetime's worth of experiences. Perfect chance to go trekking, trying our disc golf course or going fishing, amongst other things.

Lavangen's has a few hundred kilometres of hiking trails, some starting right from your cabin! Flat or steep trails, for relax leisure or for the challenge of conquering mountains, our guides will find the trail that will fits for your adventure .

Aa-Gård Disc Golf 18-hole course, follows a path along the fjord's shore and around the old farms and historic houses of Lavangen. The course fits both for beginners and competitive players. Never heard about Disc Golf ? Check our page!

Rent a boat, to either see Lavangen's mountains from an other angle, go for a fishing day. Your meal of fresh fish is waiting in "the largest pantry of the world". Check the successful fishing stories of our guest on this link.

Aa-Gård is located so far North, that we have a couple of months without darkness. It's the time to discover at least once in a day life: the summer evening skies are saturated in a golden color, and the lands are full of energy.

Aa-Gård is 400 years old, the farm is full of history, old original farm buildings which are exciting to discover. An other way to discover our roots is to play the authentic games that adults and kids played on the farm.

Discover Lavangen differently. A lot of option are available: either along the fjord on our not so busy roads or up to the summits for the challenge of conquering mountains and the reward of the view from the top.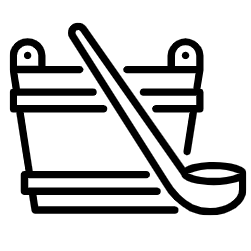 They're part of a deep tradition in Scandinavia, reap health benefits and, more simply, are wonderfully relaxing. Perfect both in summer, after a dip in the fjord, and in winter after a roll in the snow or ice swimming.

The construction of the Via Ferrata in Lavangen, is the latest exciting project soon be realised. Stay tune on this new attraction next to the waterfalls on the way to Fossbakken. You will find all the updates about it here.